Curbside Services Only
Due to the recent COVID case surge in our community there will be NO in-library services beginning Monday, November 16.
Curbside is available Monday-Thursday 9-6 and Saturday 9-12.
Call 715-268-9340 with questions.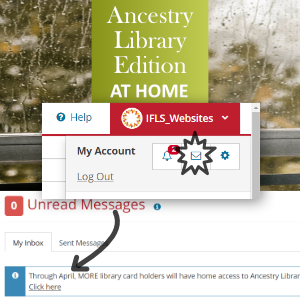 Log In from more.lib.wi.us
Select the red box in the upper-right with your username
From your account menu, use the envelope icon to open your messages
Ancestry access info is at the top of your inbox
Click here for a link to an informative guide to using Ancestry and Heritage Quest.
Use the Digital Library
Included with your library card…
Hours:
Curbside pickup: Monday - Thursday 9-6, Saturday 9-12 PM